Webex recently announced a series of innovations and enhancements that can be personalized to meet individual and organizational needs, styles, and preferences – with inclusivity, usability, and accessibility at the forefront.  
At some point in life, most of us will likely experience some form of temporary or permanent disability. Currently 15% of the global population – over a billion people – live with some form of disability, and in the United States alone, that number increases to 1 in 4 adults.   
To meet the needs of such a diverse range of people, a more inclusive approach is needed. An accessibility issue that excludes one person is often a pain point for others, so designing for those who do not have perfect vision, hearing, cognition, or mobility improves the experience for all. 
Leading with accessible design
We are fostering a culture of accessibility-first thinking and embedding universal design principles, confirmed by comprehensive user engagement and feedback, throughout the entire development cycle.
Understanding how assistive technologies are used is important to develop products and features that work for everyone. At Webex, our design, engineering, and product management team members are required to take accessibility education and hands-on training. It's even built into the onboarding process for our designers, who recently won an award for Accessible Colors in Data Visualization for Webex Control Hub. Globally, nearly 300 million people are color blind – and our administrator-based products rely heavily on charts and other visual cues to relay information. For those users to do their jobs well, color accessibility is key. Through extensive user research, the team was able to maximize accessibility for users who are color blind. Now those accessible chart colors serve as the foundation of our design system.
Connecting with and getting feedback from more users with diverse abilities throughout the development process is essential. To do this, we expanded our beta program.  And in 2021, our inaugural Webex Accessibility Customer Advisory Council was formed, with members sharing their perspectives and providing guidance that informs our strategy and roadmaps. Cisco's Connected Disability Action Network (CDAN) group – an employee resource group – has been an outstanding partner and advocate, testing features, providing feedback, and sharing insights to support Webex innovation.
It's equally important to connect Webex users with each other to facilitate a dialogue and exchange best practices. On January 27, we're kicking off a series of free Webex webinars that focus on creating an inclusive collaboration experience that works for everyone. To join, register here.
In addition to our focus on people and processes, we have been delivering new product innovations and features to enhance the accessibility experience for Webex users.
Simple usability updates, that make a big impact
We understand that the little things make a big difference – especially when it comes to usability and inclusive design. Our automated closed captions use natural language processing to transcribe English spoken language to 100+ caption languages quickly with high accuracy. That number will soon increase to 13 spoken languages translated into 100+ caption languages. This expansion removes the language barriers for more people who are deaf or hard of hearing, need language assistance, or are just in a place where reading real-time transcription is preferred.
We are also rolling out closed captions decoupled from the Webex Assistant. This means all attendees will get closed captions without having to turn on the Assistant, enabling a more inclusive and accessible experience. We're continually adding to our library of keyboard shortcuts, making it easier for users to quickly access the functionality they need, without the use of a mouse.
Webex Audio Intelligence brings people closer to the conversation
Our proprietary audio intelligence makes it easier to hear and be heard by singling out and boosting the clarity of an individual's voice while eliminating distracting background conversations. Optimize for my voice brings you closer to the microphone so others can hear you more clearly. Optimize for all voices brings everyone closer to the conversation. The new Smart Audio keyboard shortcut makes it easy to toggle between each, mouse-free.
Optimize for all voices is available now to select customers, with general availability planned for February.
An enhanced interpretation experience for hosts, participants, and interpreters
Our simultaneous interpretation solutions are flexible and can be customized by hosts, participants, and interpreters, so each can participate more fully. This solution supports meetings and large events (webinars) up to 10,000 people, multiple interpreters per channel, simultaneous interpretation (direct and relay), and bi-directional interpretation.
To meet the needs of more attendees, hosts can enable simultaneous interpretation for the meetings and webinars they schedule. Channels for up to 110 languages can be created and interpreters assigned – before and after the meeting starts. We've added a new icon to distinguish interpreters from panelists and attendees, making it easier to manage your meeting. Participants can select their preferred language when they join and adjust the sensitivity slider to balance the audio between the interpreter and the floor. Interpreters also have control with the ability to switch direction, coordinate handoff to other interpreters, and more.
Customize and sync your stage
If you want to keep a sign-language interpreter visible at all times, enable a better cognitive experience with a singular focus, or both, we're making it easy for hosts and participants to focus on who and what they want at any given time. It's easy to customize the stage – just drag and drop a video thumbnail to the stage. Hosts and cohosts can also sync the stage to control what all participants see.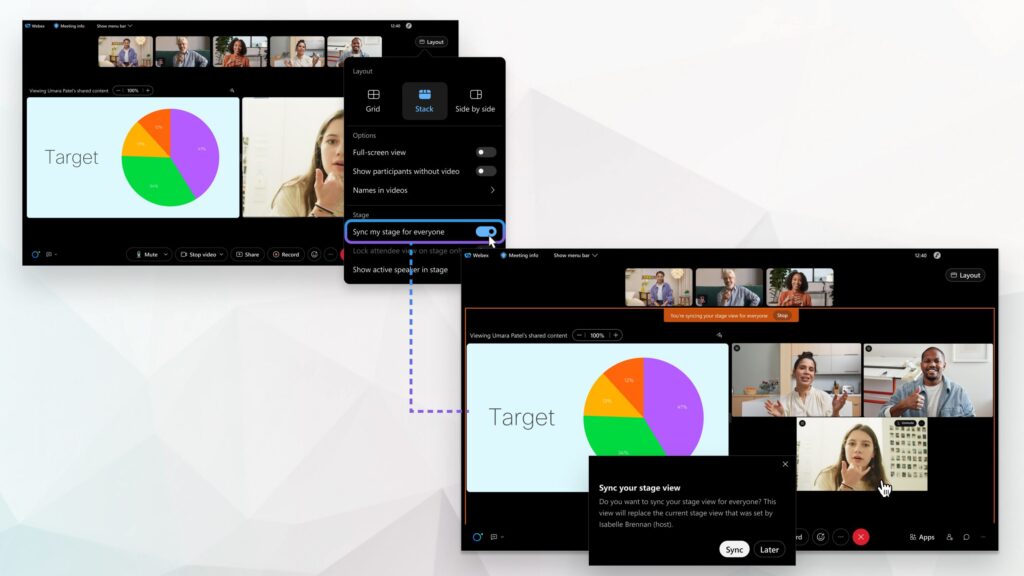 The stage updates in real-time, giving you more flexibility to create a tailored experience for participants.  Customizing the view supports cognitive accessibility by removing barriers for those whose disabilities affect how they process information.  For instance, when the stage isn't synced, participants can choose what they want to focus on by customizing their meeting view using our advanced layout controls.  These are just a few examples of how we are innovating to enable a more inclusive, accessible collaboration experience for all. There's more to come. We know there is always room to do more and better – and you have our commitment, we will. If you have questions, comments, or suggestions, share them with us.  Email [email protected].